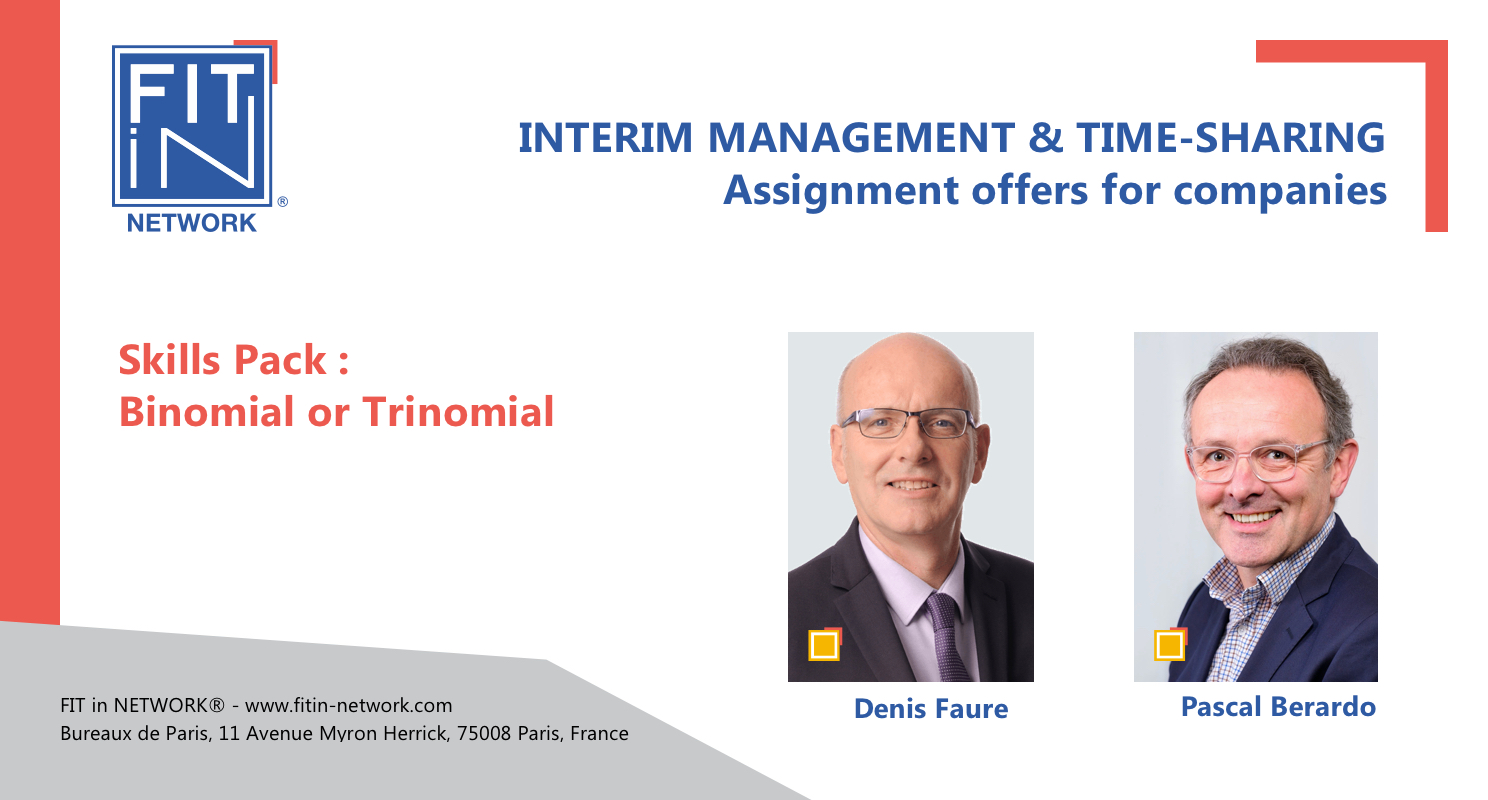 Management | Management | HR | Commercial, Timesharing, Pair or Triple Team of Experts
Our findings
The Covid-19 health crisis is a shock to both demand and supply. When businesses and shops are closed, there is neither supply nor demand, but some activities are in a vertiginous acceleration. These 2 extremes create difficulties: cash flow management, staff under stress, business to be reprospected. A crisis is a moment of truth, it pushes the Company into its retrenchment. This uncertainty requires a seasoned "strike force" to strengthen management.
Our vision
Companies are facing an imperative need for sustainability on :
The Short Term: operational finance, securing supplies, organizational agility, effective communication, prioritizing projects, protecting the health and well-being of employees, adjusting the business model;
The medium term: process automation, outsourcing of services, supply chain efficiency, improved health and safety, changing attitudes and behaviours, customer diversification,
This context reveals risks but also creates opportunities.
Entrepreneurial experience and the management of exceptional situations in demanding environments within SME-SMIs or subsidiaries of international groups guarantee a know-how of successful experiences in the turnaround of companies facing major difficulties. Transition Management professionals provide leadership and know how to share the operational implementation of action plans with the managers in place.
Our solution proposals in time-sharing missions
Transition Leaders service offering

"Timeshare "PACK

In Binomial or Trinomial, depending on the client's stakes
In Management – Finance – HR to be agreed according to the situation
Short-term: business recovery, financing, turnaround
Business Repositioning: Creating Value, Communicating Effectively
Deployment organization: simplifying processes, fostering cooperation
Operational support: strengthening management to accelerate the implementation of actions to achieve results: industrial, financial and commercial aspects.
Medium term: control of flows, development, sustainability

The "PACK" strike force of sharp profiles made up of a pair or trio of interim managers on a time-sharing basis, which brings a fresh and unprejudiced view of the situation but above all generates trust,
The company's internal teams can in fact focus on the day-to-day management of operations but also strengthen their skills in efficiency and value production.
Check out our video for timeshare offers 👉  https://youtu.be/Ncbfz5nMq8Y
Download our offer 👉FIT in NETWORK® – SME in Binomial or Trinomial
Would you like to share about your short term challenges, your medium term project?

Contact our Premium experts to discuss and choose the most suitable solution. Our two business experts can inform you and also direct you to one of our 1500 experts referenced and visible on our FIT in NETWORK® platform.