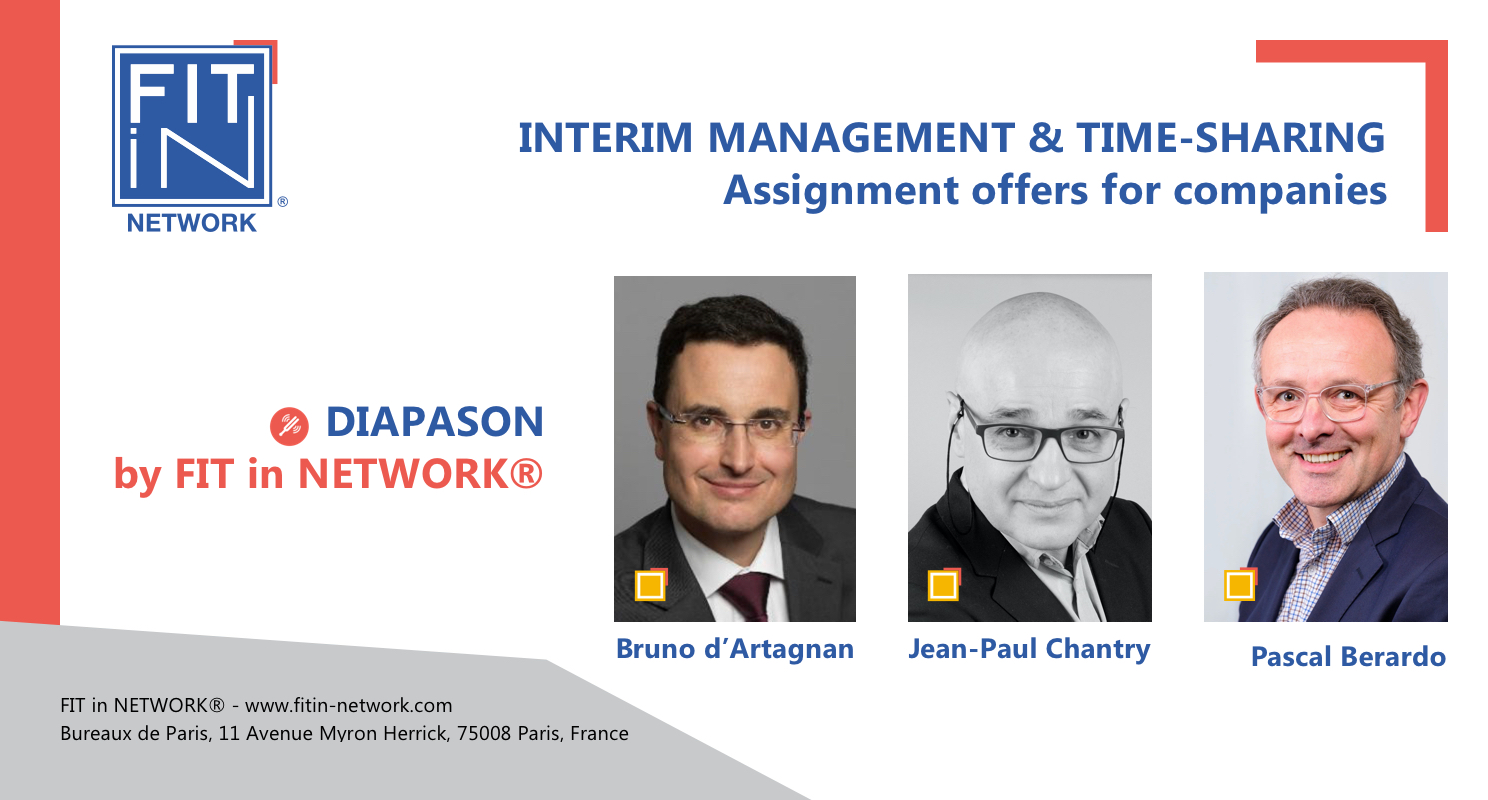 DIAPASON offer by FIT in NETWORK®
Our findings
Investors, shareholders, funds and banking institutions that own SME assets need to diagnose the situation at some point in the life of these assets and initiate improvement plans so that they can be translated into ECONOMIC RESULTS that meet their expectations.
Likewise, those working with these companies (lawyers, chartered accountants, consultancy firms, CACs, judicial representatives) can advise the support of a specialist to help overcome the difficulties encountered.
Our vision
The support of an interim manager at General Management level who has experienced this type of situation and is experienced in turnarounds and redeployment makes it possible to lay the groundwork in the short and medium term for a return to financial profitability, which is the only guarantee of the company's sustainability and the serenity of the investors.
The interim manager will help the company to tackle the various problems encountered, to deal with them and to unite the teams around the shareholders' strategic vision in support of the management. The approach covers :
Short-term actions: clarification of the issues, diagnosis, priority action plan and initial rapid actions
Medium-term actions: a 6/12 month action plan and operational support from an interim manager to implement the turnaround
The ROI is rapid thanks to the experience and operational pragmatism of the interim manager, who focuses on the objectives set.
Our "DIAPASON by ® FIT in NETWORK" Interim Management Solutions Proposal
Diapason by FIT in NETWORK® provides the diagnosis, the priority action plan and the operational follow-up: crucial steps towards a return to the financial profitability of the company.
The "DIAPASON" offer is broken down as follows
Operational intervention of an interim general management manager;
For a period of 15/20 working days;
On site, throughout France, Benelux and Switzerland;
Using the 2C3P method: Customers, Cash, Products/Services, People, Process;
For a fixed budget with immediate ROI.
The deliverables are :
The overall diagnosis ;
Implementation of the first improvement actions ;
The medium-term priority action plan ;
The proposal for long-term support in interim management by one or more skills to strengthen the teams.
Discover our offer 👉  https://youtu.be/7MMo1DAD-Ww
Download the offer 👉 FIT in NETWORK® – Diapason offer
| | | |
| --- | --- | --- |
| | | |
| President de FIT in NETWORK® | General Director | Director General Subsidiaries |
Would you like to discuss your expectations, your support?

Contact our Premium expert to discuss it and agree on the best solution for your business. Our business experts can inform you and also direct you to one of our 1500+ experts referenced and visible on our FIT in NETWORK® platform.