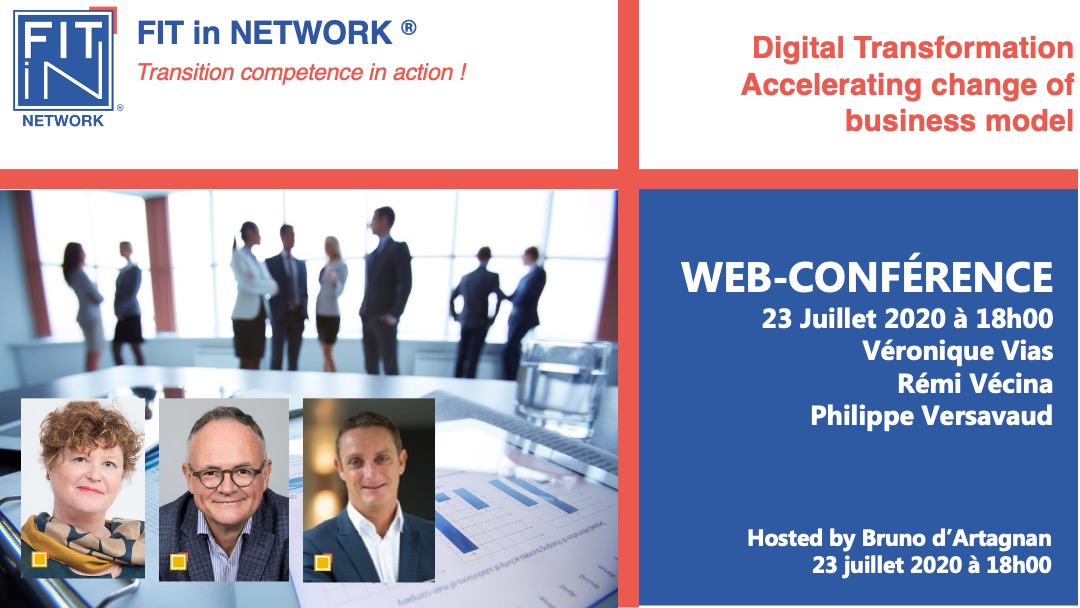 WEB-CONFERENCE ON 23 JULY 2020 at 18:00 DIGITAL TRANSFORMATION, ACCELERATOR OF CHANGE.
Are you a company director in charge of digital activities? Are you in charge of the digital transition of your company?
Like all business leaders, we are all confronted with the disruption of business models triggered by the digital transformation that has accelerated since the confinement. You are confronted with the confinement phase in France and in Europe, with its share of uncertainties but also opportunities.
Within the framework of this web conference, the FIT in NETWORK® team offers you :
☑️ Benefit from the feedback of our three Premium Experts, digital specialists: Véronique , Rémi and Philippe ;
☑️ Ask all your questions and get the answers in relation to your sectoral and functional priorities.
Replay of the webinar: https://youtu.be/u_ZYv9p6q8o
PDF Presentation in french : 20202307 FIT in NETWORK WEB DIGITAL TRANSFO 
👉 Find also our previous conferences, contact our network and our Premium Experts on the issues at stake:
FIT in NETWORK®, an interim management consultancy, brings together more than 1,200 referenced and visible experts in Management, Finance and Human Resources.

Together, let's make your projects a reality!